Plantersbank is the largest privately-owned and managed development bank in the country. It has a total of over Php 50 Billion assests offering banking products, services and business solutions geared towards promoting Small and Medium Enterprises (SMEs).
The bank, better known as The SME Bank, tours to cities nationwide every year to gather and help their clients abreast
cutting edge ideas in management and entrepreneurship.
It invites renowned motivational speakers to orient its people.
This is what they call the 'SME Speaker Series'.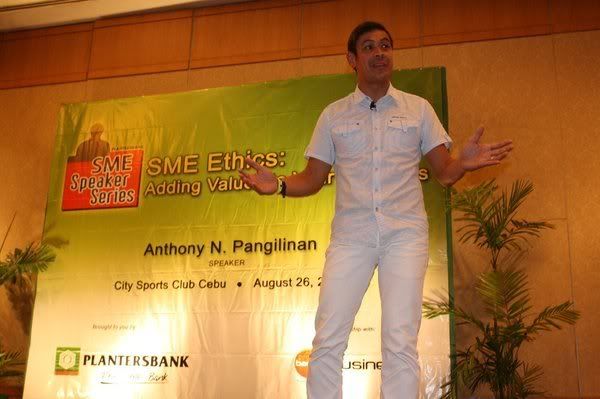 Last Thursday, August 26, 2010, the Cebu leg of
the Plantersbank SME Speaker Series
conducted this year's second talk at the
City Sports Club
,
Cebu Business Park
.
Its guest lecturer was one of the country's most sought-after motivational speaker, Anthony N. Pangilinan.
He talked about the importance of business values and how it can be a big factor in helping businesses achieve greater productivity and financial gains, thus the theme,
"SME Ethics: Adding Values to your Business".
I learned a lot from the talk despite listening to the speaker while jotting down notes about the event. Several trivias and touching quotations of famous personalities were told. Questions were raised and mind enriching business information were shared by Mr. Pangilinan. There are so many things in a business that you should take note of that I realized. I will soon apply it all in my dream business when I get the time to do it so.