Burger stalls and stores are present all over the town. You can see big branches in malls and small ones in the corners of the streets. All these offer various kinds of burgers but never do they offer grilled ones. That is what Flame It! Burgers and Sausages are proud of.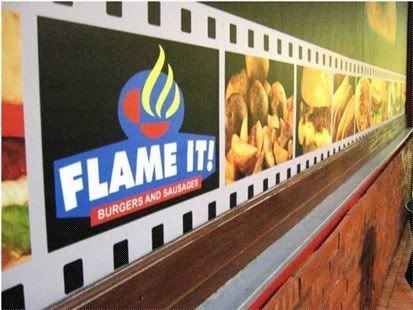 Tired of strolling around the interiors of Ayala Center Cebu, I treated myself with my friends a different kind of dining experience only found in Cebu City-Grilled Burgers. At first sight, you could tell that the restaurant is foreign because of its unique look. The entrance at the same time, exit door is framed with real yellow, black and orange bricks making the store look attractive and nice to visit.

The walls near the walking area of the mall are mainly glasses with the restaurant's logo in transparent print. On the other hand, the rest of the walls are covered with food illustrations paired with bricks at the bottom part. The floor is tiled with red-orange tiles.
More than attractive entrance, walls and floorings, the restaurant embellished their eating area with comfy seats and spacious tables. White tables were paired with black seats and black tables were paired with white seats- a color tandem of restaurant chair & table I've never seen so far. There were tables inside and outside the restaurant. The whole interior design is really nice to watch at.

Reading materials of all kinds are present for costumers to kill the time while waiting for their orders. Beside the rack is a tray of sauces and spices for everyone's need. It's now my turn to order and I barely wait for my snack. My friends and I ordered five different kinds of food and Coke soft drink for beverage.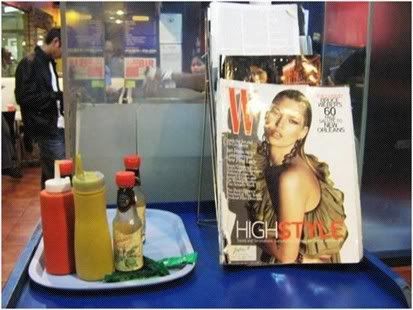 In Flame it! Burgers and Sausages Restaurant, you get to see your food prepared for your satisfaction. Only a glass wall barriers you from the grilling area which is in front of your table- assuring the costumer's food is done with proper handling sanitation. What other grilling burger stations in Cebu can you find food preparation like this? None!

In less than ten minutes, our food was served. The grilling factor is the key to the quick cooking because of the strong open fire in contact by the patties and buns. It is also the key to healthy eating because the restaurant needs not to use product oils but instead, make use of the natural fats stored inside the patties. Something really good to know!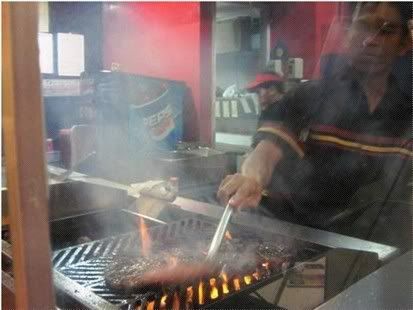 Now is my favorite part- eating time! I tried the Onion Rings first that costs Php40.00. It tasted good. It is crispy but it's better eaten with catsup. Their French Fries costs Php 37.00 and it tastes just the same as other restaurant's fries. I made a few bites with my friend's Bacon Mushroom & Cheese Flame Half Pounder costing Php145.00. It was terrific! I love the sweet taste of Cheese mixed with the Bacon Mushrooms inside the elongated buns. And finally! I ate my Frankfurter Sausage with Garlic Mayo costing Php 127.00. It's delicious. My tastes buds liked it, I ordered another one and took home. Haha!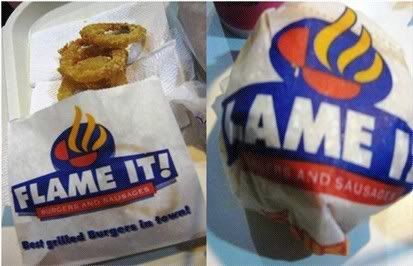 The same with other restaurants, Flame It! Burgers and Sausage's Burger Steak tastes good. It has no difference with the taste of other eateries offering Burger Steaks. Simply Delicious!

Cebu has never experienced a dining scene offered by Flame it! Burgers and Sausages until it came out of the market. What's so unique about this restaurant is that it is the only one that made Cebu taste Grilled Burger Novelty food.
The restaurant offers gourmet burgers on a healthy oatmeal bun, wherein costumers have the option to choose any epicurean toppings listed in the menu. For those who don't like burgers that much, the restaurant offers German Sausages at affordable prices alongside pasta and rice meals. They also have an array of menu items from rice meals to desserts.

Flame It! Burgers and Sausages dining experience was fun and flavorful. You might want to consider dropping by any branches of it whenever you visit Cebu.