The Mandaue Chamber of Commerce & Industry (MCCI) is an organization that has a long and proud history. Founded in 1965, it has represented the driving force behind the industrial growth of Mandaue City and Cebu Province for many years.
Today, MCCI has shifted its focus from a purely business support organization to that of strategic positioning and innovation, promotion of entrepreneurship, creation of a strong business network and building a globally identifiable brand that will make Mandaue City an attractive international destination for business and investment.
For the year 2010, MCCI is launching and reshaping MBM
from the Mandaue Business Month to Mandaue Business Movement in response to the call of the times and as the country journeys towards transformation.
All MBM activities are geared towards developing a sustainable economy where business takes on a leadership role in using environmentally friendly technology, practice social responsibility, integrate human resource development and enforce policies that promote responsible business performance while achieving growth.
To begin with, a fund raising campaign will be held. It is a running event and is dubbed as Mandaue "Run For Life" 2010. It will be on August 1, 2010 at 5:30 am. Gathering will be in the premises of Parkmall Cebu.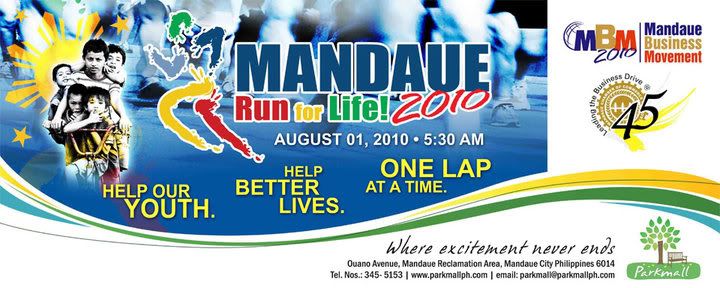 The marathon will serve as the opening salvo of the MBM events. This will be participated in by various civic and business organizations in Mandaue and Cebu. Proceeds of the marathon will be allocated for the benefit of MCCI's medical mission and the Dasig Kabataan Foundation.
Categories are as follows:
Kids' Run

3 kilometers

5 kilometers

10 kilometers

15 kilometers
Registration fee is Php 250.00 for all categories. Registrations areas: Dunkin' Donuts SM, Dunkin' Donuts Ayala, Runnr Ayala, Parkmall, Holiday Spa and at the Philippine Sports Commission Office.
Download Registration Form
HERE
.
Let's Help Our Youth, Help Better Lives - One Lap at a Time. Don't dare miss this healthy and helping event.