For quite sometime now, the rumor spreading like wildfire about Cebu to have the most-loved place by kareoke-lovers is getting its way clear. Yesterday, Red Box opened its doors to all music lovers at the G101 Garden Level, Ayala Center ,Cebu.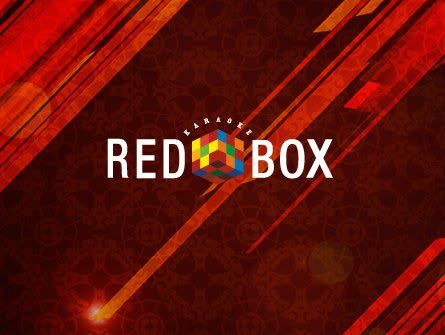 Before that day, the media people were invited for a private sneek peek of the place. We had the chance to savor the food and beverages Red Box offers and test & use the sound system and monitors. To make the long story short, here is a list of why Red Box should be visited by you with your family and friends always:
FOR EVERYONE
One doesn't have to be a singer to enjoy Red Box. You don't have to force someone to sing during the time of your stay in the place. Expect original music videos- watch or just listen. Give yourself a break and bring your gadgets- there is free Wifi (perfect for bloggers-ehem*) In other rooms, there is a billards pool and a poker table. The place fits to people of all ages.
FAST SYSTEM
Compared to the old way of selecting a song, (entering different and long digit combinations) Red Box requires you to only press one or two numbers to have your desired song selected. The guide/manual is easy to understand. Really fast!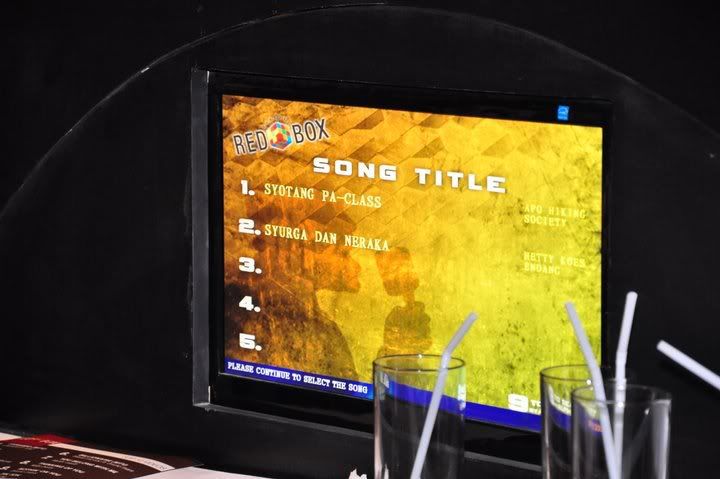 ROOM UNIQUENESS
All the rooms in Red Box are different from each other. From carpeting to arrangement of seats & tables. From wall decor to room sizes. All is unique.
FOOD-FILLED
Feast yourselves with their delicious food from home-grown dishes such as Sisig, Lechon Kawali (with Fried Tofu),
Crispy Pata,
Kilawin Tanigue,
Calamares &
Stir Fried Beef Tenderloin Tagalog to foreign-loved delicacies
namely Crispy Spring Roll Trio, Buffalo Wings, Fish and Chips, Thai Style Grilled Beef Tenderloin, Charcoal grilled pork belly, Loaded Nachos, French Fries (one of my favorites), Garlic Rice, Plain Rice. And no, these are not all! Before you would contain your stomach with the ones I mentioned above, save some reserviors for the desserts!
Of course, beverages are offered- all sorts of them. From soft to hard. What more could you ask for?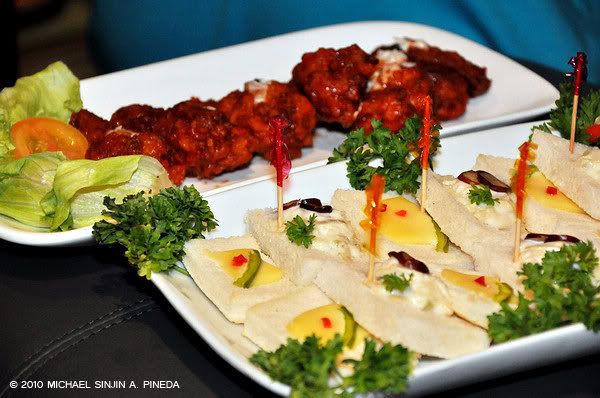 UPDATED
What's the usual query does one frequently ask when he/she is going to sing a song? It's "Is there 'Baby' by Justin Bieber?" or "How about Travie McCoy's 'Billionaire'?". If you're in a karaoke or music house that is not Red Box, the answer you'll get from the clerk would definitely be, the hurting word 'No'. When in Red Box, you'll get an affirmative response. Yep. One of the good things of Red Box is that, they update their database weekly. Yup! Weekly! Perfect for the youth and self-proclaimed youth! Haha!
Red Box is something you wouldn't expect to be seeing it outside. Once you get in the place, it'll seem like you're not in Ayala Center Cebu. You'll feel like you're in a five-star ship. Talking about the restrooms (I don't know with the boy's room), the area is well ventilated. There is an automatic tissue roller and there are enough sinks for beaus to do their face-retouches. There are about three toilet bowls inside it.
The clerks are very accomodating. They frequently ask what you need and want more. They are quick and presentable too. In every room, by its doors, placed is a specialized phone. All you have to do is press 0 for a clerk to come in your room to take your order. Really neat!
Before I'll end the post, here is the complete price-list in Red Box.
LUNCH HOUR (12:00 noon – 3:00 pm)
P299 per head
Inclusive of Lunch Buffet
Free Room Use during Lunch Hour
HAPPY HOUR (3:00 pm – 7:00 pm)
P199 per head
Inclusive of 1 Free Drink
Free Room Use during Happy Hour
PRIME TIME (7:00 pm – 12:00 mn)
P299 per head
Inclusive of 2 Free Drinks
Free Room Use during Prime Time
P399 per head on Fridays and Saturdays
AFTER HOURS (12:00 mn-4:00 am)
P199 per head
Inclusive of 1 Free Drink
Free Room Use during After Hours
Over all, the Red Box is, I say, a must-try karaoke house. I personally like the interior of the place compared to the sound system. It's really something one can't expect to be looking at its entrance outside. If time permits you, don't hesitate to visit and try slacking at Red Box Cebu.
photo credits: Sinjin Pineda & Clarence Mongado