Dinner Time! To spice up the night, my friends and I went out for a scrumptious dinner in Asia Town I.T. Park, Lahug. No restaurant was planned to be visited so we made an on-the-spot choosing of which eatery we will be dining in. Ila Puti was in front of us so we choosed to dine in it. Haha
Looking at the restaurant from the outside, it looks like a Chinese-oriented eatery. It looks attractive and formal. Whether you enter or not, you can see its wonderful interior because the front wall is made up of glass graced with a glass door as well.
A large bulletin of menu is placed up above the counter's wall. I love it like that. It's clean and unique. The lights decoration is nice. There are white lights on the ceiling but yellow ones dominate the entire place- making a 'royalty & intimate' atmosphere.
The chairs are in gray color that compliments the black tables. One of the wall is made up of piled bricks, the other is plain painted white and the other one, as I have mentioned above is plain glass. The counter is clean and the staff is really approachable-adding more points in making costumers come back to eat in the restaurant.
I like their Grilled Liempo. It tastes so good. The overnight marinated slab of pork belly with herbs and spices is paired with garlic-shrimp fried rice –making it taste spicy and delicious. It is sold for Php200.00 only!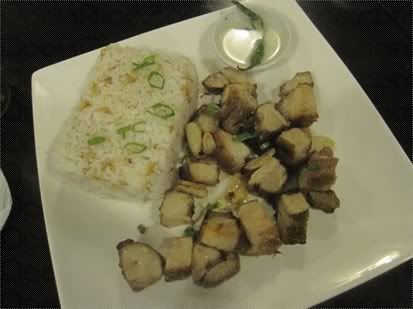 The Sisig Sizzler is the bomb! It's so spicy and hot in the mouth! It's said that it's made in the Ila Puti way of making food really spicy. It costs Php180.00.
Only one of our friends ordered something that is eaten with plain rice. He ordered Ila Puti's Plato Sizzling Burger Steak. It's a quarter pound burger patty with mushroom gravy and white rice. It costs Php150.00

My friends loved the Pasta Puti. It is the restaurant's best-seller. It costs Php180.00. It is Penne coated in rich white sauce with mushrooms and bacon with two bread sticks. Yum yum yum!